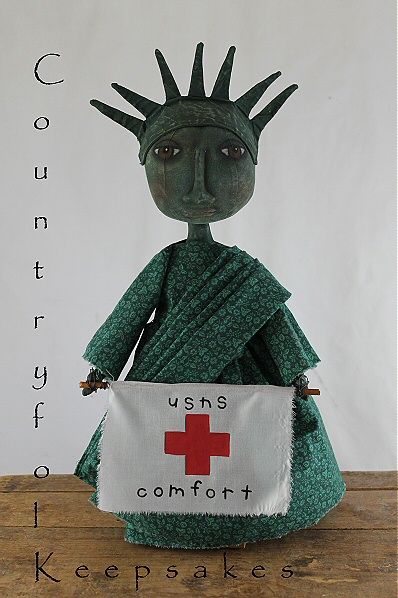 Being a Central New Yorker, the sight of seeing our United States Naval Ship Comfort arrive in New York Harbor to help those in need was quite emotional and historic. In honor of that March 30th day, I created this unique one of a kind, Liberty make-do piece.

~Liberty is made from stained, painted and sanded cotton.
~She is securely attached to a wood dowel with an antique barn siding base.
~Her tattered gown, underskirt and sash are a lovely green floral print.
~Her draped sash is secured to her gown.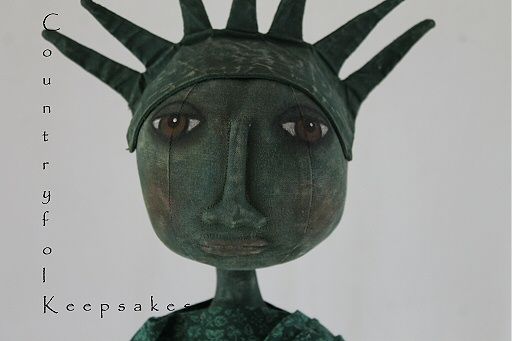 ~Paint and artist pencils were used for her somber yet resolute eyes.
~She has a needle sculpted nose and lips.
~Her crown of seven rays represent the seven seas and continents of the world. It is stiffened and attached.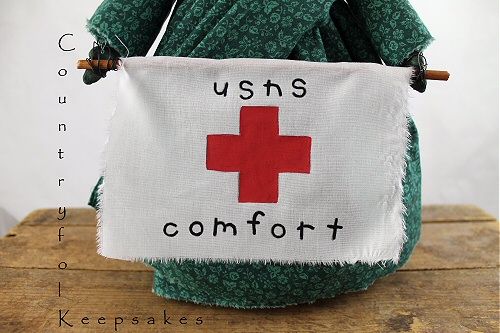 ~In her caring hands she holds tightly a flag I painted representing the United States Naval Ship Comfort.

~This piece is approx. 16.5" high and is signed and dated.





Thank you!
♥

I'm sorry, no duplicates will be made.


As always, thank you kindly for stopping by.

Take care and God bless,
:> )
~Karin Pender
Countryfolk Keepsakes



P.S.
Sunlight is said to be the best disinfectant and also a great source of Vitamin D.
Remember to get outside and grab some.




Be well.
♥