"I do not know, but I will try."~ Betsy Ross
According to the oral history, that was Betsy's response when George Washington pulled a folded piece of paper from his inside coat pocket with a sketch of a flag. It had thirteen red and white stripes and thirteen six pointed stars. She did suggest changing the stars from six to five points.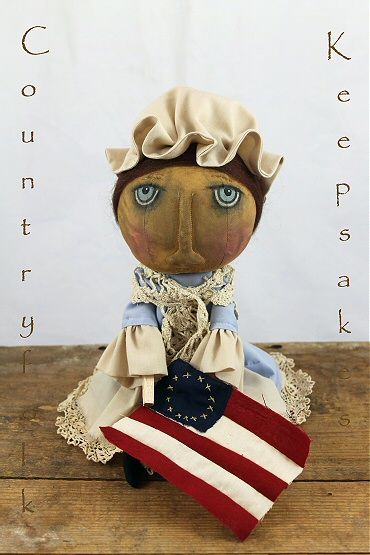 ~Betsy's round noggin is made from stained, painted and sanded cotton.
~Her wooden jointed body and limbs are made from dried hardwood cut with the ax I swung myself.
~Paint and artist pencils were used for her pretty blue eyes.
~She has a needle sculpted nose, eyebrows and mouth.
~Soft spun wool hair is needle felted and coiffed into a little bun.
~Her cotton mob cap is stitched in place.




~She wears a lovely blue broadcloth dress with ruffled sleeves.
~Beautiful vintage tatted lace was used for her shawl.
~Her apron and bloomers are cotton.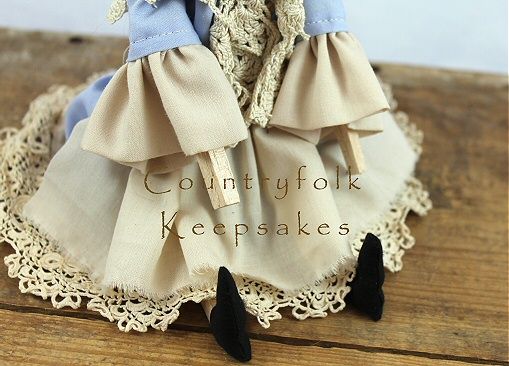 ~Her cotton petticoat is adorned with gorgeous vintage tatted lace.
~She wears little black cotton shoes.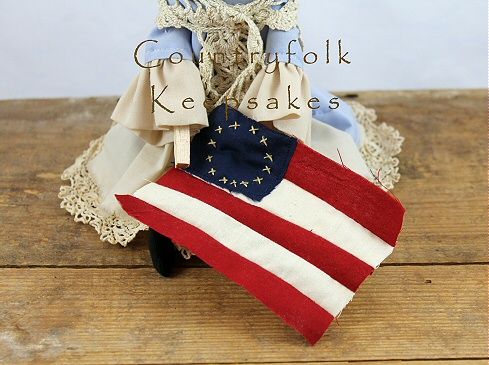 ~She holds her famous Betsy Ross flag. Stitched by me.
~It's approx. 4.5" long by 3.5" high.

$150.00 for Betsy Ross and her flag. This includes insured, Priority Mail with Delivery Confirmation inside the continental U.S. of A. only.




Thank you!
♥


As always, thank you kindly for stopping by.
~Karin Pender
Countryfolk Keepsakes




P.S.
Teach early American history.